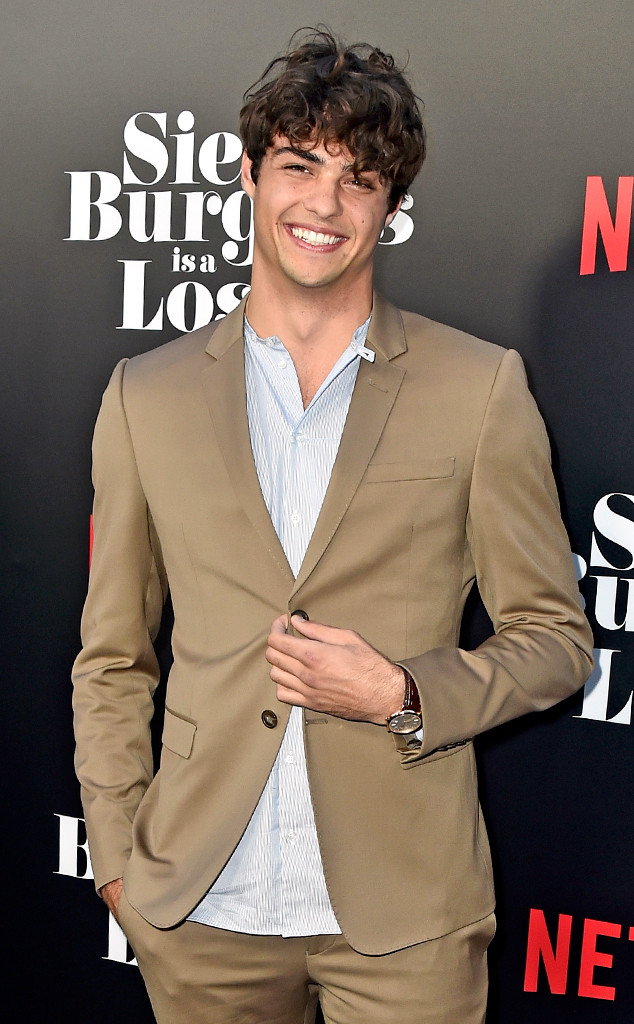 One month. Two Netflix rom-coms. 8 million Instagram followers gained.
That, in a nutshell, is the story of Noah Centineo's summer of swoon, with the young actor's turn as Peter Kavinsky already going down as one of the rom-com genre's all-time great boyfriends. And with the release of his latest Netflix rom-com Sierra Burgess Is a Loser on Sept. 7, Centineo's new title as the breakout star of Summer 2018 Has been officially cemented—and rightfully earned.
Since To All the Boys I've Loved Before dropped on Netflix on Aug. 17, Centineo has become the Internet's latest boyfriend…but he might also be its best. Yes, we're calling it now: we've reached peak Internet Boyfriend. Feel free to get rid of your Wi-Fi, no one better is coming. Just kidding…how else would you be able to continue searching for .GIFs of Centineo being his charming self on a daily basis?
Let us count the reasons Centineo is the man we've been waiting for…
1. The Look: Sure, it's superficial, but an Internet Boyfriend just has to have a certain look to them, and Centineo's sleepy sexiness—his forever mood seems to "I just woke up from a nap five minutes ago, 'sup?"—just works. We're not convinced he knows how to properly but on clothes (see below for just one example!), his hair is perfectly imperfect and he has permanent bedroom eyes. Still, he's attainable hot, an essential quality an IB must possess.
As for that scar? He was attacked by a dog when he was six years old. But in an interview with Buzzfeed, he defended the animal, saying, "The dog didn't know what it was doing…some people were like, 'Do you wanna put the dog down' I was crying, like, 'No, he didn't mean to do it!'" Plus, his family went on to get a Black Lab German Shepherd Rottweiler just six weeks after the accident.
2. He's the Right Age: You know what was one of the biggest Google searches the weekend To All the Boys I've Loved Before premiered? "Noah Centineo age." At 22, we can all feel OK with our collective thirst. (Oh, and FYI: He's 6'1″.)
3. He's Cool With Being "Soft": For some reason, many young actors shy away from getting vulnerable in romantic comedies in favor of bro-humor comedy romps or squeezing into superhero tights. And there's nothing wrong with that, but it's refreshing to hear Centineo be so damn cool with having "soft jock" be his calling card (at least for now). after To All the Boys I've Loved Before's Peter Kavinsky (lacrosse player hurt by his father leaving his family) and Sierra Burgess Is a Loser's Jamey (football star who is fiercely protective of his deaf little brother).

"When it comes to young men doing romantic comedies, you have to have a certain level of openness and vulnerability, while also being that 'male lead' type," he told Vulture. "Finding the balance and being able to play comedic moments, play a brutish male, but also have sensitivity and make it all very authentic and natural—you just have to be the type of person to do that, and some actors don't want to be that type of person."

Get. You. A. Man. Who. Can. Do. Both.
4. He's Got a Good Head on His Shoulders: After moving to Los Angeles when he was 15 when he booked a role on Disney Channel's Austin & Ally, he was more than aware of the pitfalls of fame and fortune at a young age and made sure to protect himself from becoming just another cautionary tale.
"Everything's available in Los Angeles to those who do go out or want it—and you're not borrowing Mom or Dad's money. If you have your own money, you feel entitled to spending your own money how you'd like to, and that's a slippery slope," he told the L.A. Times.
He also revealed that he decided to spent his 21st year completely sober, explaining, "It was an act of self-love. Like, 'Listen, society. You say I can drink legally at 21?' I didn't remember what the 14-year-old Noah was like before partying was a thing. I kind of just had forgotten about that because I got swept up in having friends who were young and doing our own thing and financing our lives."
5. He Doesn't Try Too Hard: In Internet-speak: the boy is not thirsty. While a desire for fame or fans has derailed many a Internet Boyfriend in the past—with their one-time cute antics eventually taking a turn for the forced or calculated—Centineo is the perfect mix of chill and engaged.

His Instagram captions are often times sincere and self-deprecating, a delicate line most young actors just don't have the finesse to toe.
6. He Trolls…in A Nice Way: Centineo is well aware that fans want to believe that the on-screen romance between he and Lana Condor is real, that they are just like Peter and Lara Jean in real-life. It's not a new phenomenon, as on-screen romantic pairings throughout history have been "shipped" by their loyal and rabid fanbases. (See: Twilight, The Fault in Our Stars, Fifty Shades of Grey, etc.) However, unlike many of the young leads that came before him, Centineo is more than happy to tease the possibility. Just look at these adorable Instagram love letters!
Alas, they are just the cutest of platonic friends, as Centineo himself told E! News that his leading lady simply his "home girl," explaining, "She's in a relationship and super happy, he's an amazing guy and she's like so over the moon about it."

Admiring his female co-star but also respecting her relationship? Dreamy.

He's just as swoonworthy with his Sierra Burgess co-star Shannon Purser, with the Stranger Things breakout revealing Centineo was her first on-screen kiss and told Teen Vogue he was "so sweet" about it.

"I'd give it an 11, that was an 11," Centineo ranked the kiss for ET.
But speaking of smart trolling…he knows what fans want from him–the charade that he is the same character we fell in love with on-screen, just with a bit more edge. Like, can you even deal with this tweet? It's the social media version of going to a concert for a band with a lead singer you are CONVINCED is the guy for you and you just know that you guys totally made eye contact during that one song and he felt it, too. This tweet? It was meant just for you!
7. He Knows What He Wants: At just 22, Centineo is emotionally woke. His Twitter is basically like one of those apps that offer daily gratitude platitudes and affirmations, except not cloying. It's the level of deep you wish that dips–t you dated in high school could've been.